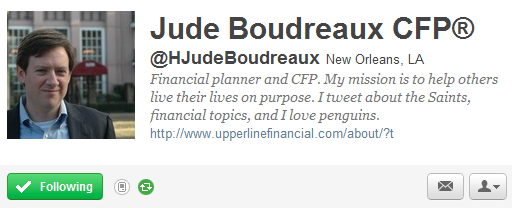 Jude Boudreaux, a financial adviser based in New Orleans, was featured in the Wall Street Journal today sharing his view of the impact of social media on his business.
The article discussed, "a growing group of financial advisers who are embracing all kinds of social media to develop closer relationships with clients and gain exposure to potential clients, particularly younger investors."
Many advisers, lawyers, and medical professionals are concerned about the use of social media and the potential for followers, friends, and others to misunderstand or misapply the information shared. The Journal discusses these concerns specifically related to SEC regulations and how professionals can use social media to their advantage without directly discussing business or giving advice.
Jude is quoted as stating, "I've met people through Twitter I wouldn't have met otherwise. Ultimately I'll get into people's consciousness, and when they're looking for a planner, I'll be the one they think of."

In true social media fashion, Jude tweeted about the article to spread the word to his network. His followers responded positively and further expanded his reach by sharing the article with their own groups of followers. The full article, "The More Friends The Better," is available here.
Category: New Orleans, Social Media