SBTV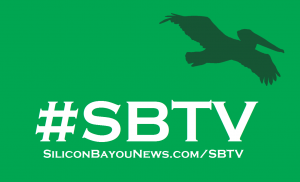 Welcome to Silicon Bayou TV (#SBTV): your highlight reel of everything tech and 'trep in Louisiana. Subscribe to our YouTube Page to stay up to date on the latest releases.
SBTV is hosted by Molly Oehmichen and Curry Smith. Taylor Moss is the Assistant Editor for SBTV. To submit headlines, stories, events, or to sponsor SBTV, contact Taylor by email: taylor@siliconbayounews.com.
Silicon Bayou Video Blogs from BarCampNOLA 5

Did you miss BarCampNOLA 5? Wish you could do it all over again this weekend? We feel your pain, but you don't have to wait a whole year to get back into the BarCampNOLA excitement.

Silicon Bayou's Editor, Molly Oehmichen, sat down with various participants during the event last weekend to chronicle her experience through video blogs. Check them out below and subscribe to Silicon Bayou News on YouTube to stay updated on future video posts.

Thanks to @heyitsmegan, Chris Boudy, Curry Smith, Adele Tiblier, and Barrett Conrad for joining Molly on camera.




Morning Video Update from BarCampNOLA 5

We're having a great time at #BarCampNOLA 2012. Molly Oehmichen and @heyitsmegan talk about the presentations they've seen so far in this quick video update:

#SBTV: Silicon Bayou Launches Web Series

Silicon Bayou News is rolling out a new web series!

Introducing: #SBTV

Silicon Bayou TV, or #SBTV, will be a highlight reel of everything tech and 'trep you need to know from New Orleans, Baton Rouge, Shreveport, and across Louisiana.

What is SBTV all about? Each episode will feature headline stories, upcoming events, and special guests. Look forward to segments featuring startups, biotech, education, social media and everything in between.

If you have headlines, events, or stories for Molly and Curry to chat about on SBTV send them to molly@siliconbayounews.com.

Pilot Episode

This series is just getting started and will be a work in progress.  Our pilot episode is finished and uploaded to our new YouTube page.  We are excited for this project and hope you find the videos entertaining and useful.

Chris Schultz, co-founder of Launch Pad and Launch Pad Ignition, and the 2012 New Orleans fellows from Code for America are featured in this first episode.  They are sharing some great info and we thank them for being on the show.

Also, big thanks to the folks at the 225Fund for trusting our crazy idea and supporting the pilot episode. Check it out!

Sponsorship Opportunity

We are currently seeking multiple sponsors for #SBTV.  Contact molly@siliconbayounews.com for more information.